Top 10 Richest Gamblers in the World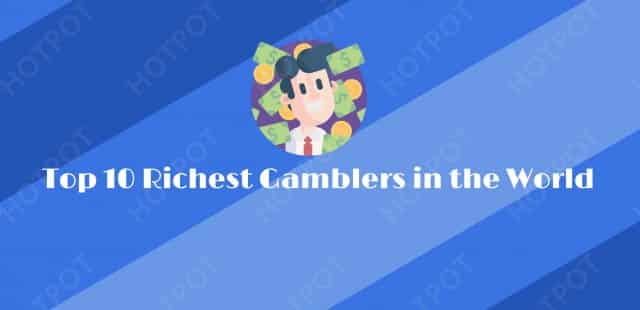 If you're on the right side of luck, you can turn out to earn big bucks with gambling. The industry's potential becomes even more clear when we take a look at the list of the richest gambling bosses in the world with owners worth billions of New Zealand dollars. Whether it's a casino in Las Vegas or Macau, the best online casino, or a gaming company that provides software, the real money is earned by operators who are most successful as they're what we would call the house. And the house never loses — at least not in the long run.
Still, there are tons of players who are very good at what they do that they are also considered masters in their league. Every now and then, there are also millionaires to be found on the other side of the industry: those that make their wagers and earn money doing so. In this article, we'll cover 10 of the richest gamblers in the world. These players once started for fun, but are now considered full time professionals. This top 10 of the richest gamblers should serve as an inspiration as gamblers should always play to win.
10. Haralabos Voulgaris (Sports Betting: $17 million)
Haralobos "Bob" Voulgaris is widely considered as one of the world's most successful sports bettors which makes him one of the exemptions in this list that is highly dominated by professional poker players. Greek-Canadian Voulgaris once invested his life savings on a bet to see the Shaq/Kobe Lakers to win the highly disputed 2000 NBA Championship. According to Voulgaris he was able to become one of the world's wealthiest gamblers thanks to his unique ability to read coaches moves. In 2017, Voulgaris tried his luck at poker, and finished 4th in the World Series of Poker's Big One, with his winnings totaling $3 million. His current net value is estimated to be around $17 million.
9. Patrik Antonius (Poker $25 million)
Finland based Patrik Antonius has won both a lot of chips and followers over the years, which is also thanks to his intimidating staredown. At the poker table, he is often called a "cold-blooded killer" which makes him difficult to beat. In 2005, Antonius played the Five Diamond WPN NL Hold 'em Tournament and won a major sum of $1,046,470. After years of success at the poker table, he hit the jackpot in 2018 at the Super High Roller Bowl China NL Hold 'em Tournament leading to a win of $3,151,734. In recent years, Antonius won smaller prizes of $21,512. This happened at the 2019 EPT Barcelona €10,000 NL Hold 'em. In addition, he won $11,133 at the 2019 EPT Barcelona €5,000 NL Hold 'em. Although the Fin is yet to earn himself a WSOP bracelet, his total net worth of around $25 million is still very impressive. Antonius is a former model and currently lives in Monaco, featured in our top list of the best gaming destinations of the world.
8. Jonathan Duhamel (Poker, $32 million)
Duhamel is a Canadian professional poker player who is internationally known for winning the Main Event at the 2010 edition of the World Series of Poker. Quebec born Jonathan Duhamel won the tournament by defeating John Racener, leading to a prize $8,944,310, and becoming the first Canadian player to win the bracelet. Since 2013, this gambler's live tournament winnings totaled more than $12 million whis gives him a net worth of more than $32 million. In 2011, Duhamel was badly beaten in a home invasion robbery. The suspects were arrested and police have since recovered about half of the cash stolen.
7. Daniel Negreanu (Poker, $50 million)
Daniel Negreanu is a Romanian-Canadian poker player, who mainly plays at real money online casinos. If you play KidPoker in an online poker room, you'll be playing against this poker legend who is considered one of the greats. Negreanu's highest cash of $8,2 million was earned at 2014 WSOP where he placed 2nd. His WSOP earnings alone top $18 million and his total career earnings are mind blowing with more than $50 million. Negreanu is one of the ambassadors of GGPoker and currently resides in Las Vegas, United States.
6. Howard Lederer (Poker, $60 million)
Lederer is an American professional poker player and the winner of two World Poker Tours and two WSOP bracelets. Apart from being a professional gambler, Lederer also co-founded Tiltware, Inc. with fellow poker players Ray Bitar and Chris Ferguson (who we will touch upon later on in the list), launching an online gambling platform called "Full Tilt Poker." In total, the millionaire reached the final table of the WSOP 8 times before winning his first and second bracelets in 2000 and 2001. At the World Series of Poker, this legend earned 44 money finishes. Throughout his career, Lederer has made many appearances on Poker After Dark and provides commentary for other poker tournaments.
5. Doyle Brunson (Poker, $75 million)
Doyle Brunson is a retired poker player from Texas who was born in 1933 and enjoyed over 50 years of experience at the time he decided to step down. Besides being the winner of two WSOP championships and ten WSOP bracelets, Brunson also launched a book. Brunson's book Super/System was published in 1978 and is considered an expert guide to the world of poker. In the mid-2000s the original book was succeeded by Super/System 2 including contributions from Chip Reese and Bobby Baldwin. His son, Todd, also plays poker.
4. Chris Ferguson (Poker, $80 million)
Chris Ferguson is widely known for his long hair, impressive moustache and must-have hat that are considered his trademark. In addition, he is known for his bumpy career as he has seen the good sides of poker, but also the bad sides. Ferguson was successful for a longer period of time, but soon after that he lost everything again. He eventually managed to come back and is now considered a poker champion again, with a net worth of $80 million. Los Angeles born Chris Ferguson first played poker at the age of 10.
3. Dan Bilzerian (Poker, $200 million)
This 41-year-old poker and Instagram legend can't be left out and while some hate him, many love Bilzerian. Thanks to his successful poker games, Bilzerian has built up a fortune of US$200 million. In the most talked about game Bilzerian has participated in, he won more than 10 million dollars in one night. It should be mentioned that Bilzerian's total wealth does not only come from poker games, as he also owns many shares in various companies and has been highly successful with his Instagram page as well. Nevertheless, it is certain that a large part of his wealth comes from his successful poker games.
2. Edward Thorp (Baccarat, Blackjack, $800 million)
Edward Thorp is an author, mathematics professor, and professional blackjack player from Chicago, US. Thorp is also famous for inventing and launching the first wearable computer in 1961, which he did with Claude Shannon. After years of success in the industry of casino games, Thorp managed to become one of the wealthiest professional gamblers alive. In addition to his exceptional Baccarat and Blackjack skills, Thorp made his way to Wall Street, where he used his mathematical skills to predict market anomalies. Thorp is widely seen as a genius thinker and a renowned member of the Blackjack Hall of Fame.
1. Bill Benter (Horse Racing and Blackjack, $1 billion)
Pennsylvania-born William (Bill) Benter began his career as a professional gambler in Las Vegas. Benter holds a degree in Physics and his knowledge in Mathematics has helped him to become one of the richest gamblers in the world. Benter was so good at blackjack that he was considered a threat and banned from many Las Vegas casinos. As this only happened seven years after he started winning, Benter managed to win a lot of money.
After meeting Alan Woods and moving to Hong Kong, he also tried his luck in horse racing. The duo eventually went their own ways, and Benter later perfected the formula for predicting horse races' outcomes. Today, Benter is believed to earn $100 million a year and his net worth is estimated at $1 billion.