The 10 Most Important Poker Strategy Books Ever Written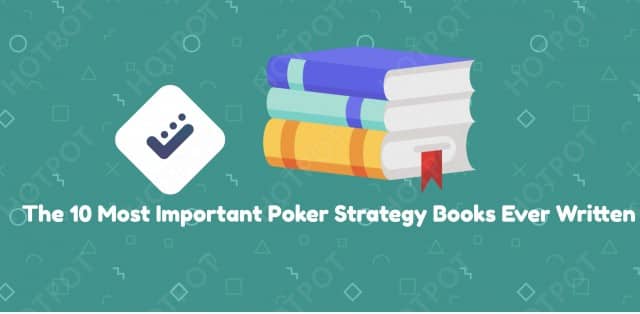 If it's your ambition to make profits any time soon by playing poker, you will need to know the ins and outs of the game down to the very last detail. You can of course learn the ins and outs by practising games in the field and trying to learn it the hard way, but there are also several books you can read to hone your poker skills before you take up the challenge. The best poker strategy books should give you the info and inspiration you need to practice at a live poker event or on the internet.
If you're looking after a poker career and want to keep on developing yourself as a poker player, then we recommend that you continuously train yourself. One of the ways to effectively do this is by reading our guides, but another way is to turn to books written by professional players. If you really want to make progress as a poker player, you should read up as much as possible and in order to help you up with this one, this article features 10 useful books we think are the best ones to read from a poker strategy point of view.
10: Daniel Negreanu's Power Hold'Em Strategy
Daniel Negreanu is a professional poker player from Canada who has already made many profits up to millions of dollars playing poker. In his book "Daniel Negreanu's Power Hold'Em Strategy" Negreanu tells you more about his secrets and strategies when it comes to playing poker. The book is mainly suitable for people who play offline, but the tips in the book are quite general and therefore certainly useful for online poker players.
9: Harrington on Modern Tournament Poker
Harrington on Modern Tournament Poker is a book of up to 533 pages in which you're about to read more about participating in professional poker tournaments. The book tells you not only what to expect when entering a professional tournament for the first time, but also how to make the most of poker tournaments. If you want a book that is specifically about participating in poker tournaments, then this book by Dan Harrington and Bill Robertie is definitely recommended. This book is less intended for those that play online.
8: Poker for Dummies
Poker for Dummies is a silly sounding, but very practical guide that will teach you more about the basics of poker, including how to bet, how to bluff and how to get to the top of poker. The title of the book may suggest that the book is suitable for beginners, but experienced players can also get a lot of information from the book. The book also contains excellent illustrations, which make the explanation in the book even clearer and more fun to read. Poker for Dummies isn't really only for dummies as you will find out.
7: Poker School
Poker School is mainly suitable for novice players and tells you more about the different variants of poker, the basics of the game and the strategies you can use when playing poker. The book can be used by online players as well as players who play offline or participate in poker tournaments. Poker School was highly popular when poker had its global boost in popularity in the '90's, but is still read by many poker players who want to make their bets in a top paying online casino NZ.
6: The Theory of Poker
One of the classic poker books that made it to our top list and is considered mainly suitable for players who already have some experience playing poker, but don't really have any real strategy when playing the game. The Theory of Poker tells you more about the various poker strategies you can follow, the best tactics for specific game situations and the best ways to make big profits. All sorts of poker terms will fly through your mind as you read this book, and by the time you finish the book, you'll have more knowledge about playing poker and the strategies you need to follow to be successful as a poker player.
5. Super System 2
Many poker players will be familiar to some extent with Doyle Brunson's Super System. The second part of Super System is based on the same concept as the original book, basically meaning that the best poker players in the world wrote a chapter in it, giving it some new perspectives. Contributors included Jennifer Harman (Limit Hold'em), Lyle Berman (Pot Limit Omaha), and Bobby Baldwin (Omaha Hi / Lo) in the 2004 edition.
4: Secrets of Professional Tournament Poker
Those wishing to participate in live poker tournaments are advised to read Jonathan Little's book Secrets of Professional Tournament Poker. Jonathan Little had already won over $4 million in poker tournaments at the time the book was launched and decided to share his secrets behind winning his prizes in what turned out to be a highly popular book. These secrets are not only about the strategies he uses when playing poker, but also about his mentality while playing the game. Three additional series have been made of this book that was originally published in 2011.
3. Poker Unlimited
Poker Unlimited is completely focused on No-Limit Hold'Em and teaches you in 190 pages how you can become successful as a novice player with this particular game of poker. The book starts with some general terms that you may encounter while playing No-Limit Hold'Em, but quickly goes into detail about the best strategies to follow when playing this popular variant at a real money online casino. Poker Unlimited is mainly focused on playing poker online, but can also be applied into practice by offline players.
2. Moorman's Book of Poker
Chris Moorman is a very successful online poker player who is believed to have won more than $11 million in total playing poker online. To ensure that others can have the same success playing poker, Chris Moorman likes to share the strategies behind his success story with other players. In Chris Moorman's Moorman's Book of Poker you can read more about his strategies, his mindset, and his story behind winning games.
1: Excelling at No-Limit Hold'Em
Excelling at No-Limit Hold'Em is a special 500-page book written in collaboration with no fewer than 17 poker experts. These experts not only give tips on how to play No-Limit Hold'Em, but also share their thoughts about the mindset you should have as a player and the psychological background of playing poker. Jonathan Little's book has sold a large number of copies worldwide and has already helped many (beginning) players to fine-tune their poker strategy. Other than playing casino free games, Excelling at No-Limit Hold'Em will also turn out to be highly useful in your way to developing a successful poker strategy.