The 10 Largest Gambling Stocks of 2022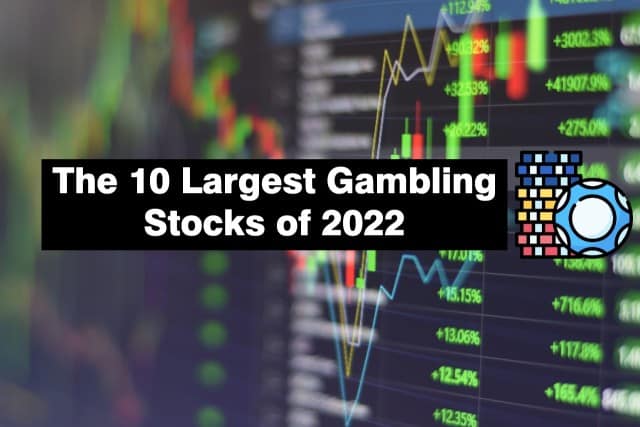 The global gambling industry has been growing at an impressive rate over the last few years and there's really nothing that can stop the industry from growing (no, not even Covid). As a result, gambling stocks have turned out to be a highly popular investment theme when it comes to the stock market in virtually all four corners of the world. The rapid opening of key markets, including important markets in the US and Canada, to legalised gambling has been eagerly awaited not just by those who want a both thrilling and secure place to make their wagers, but also by operators offering online betting services and their investors.  Both institutional and retail investors around the globe are keeping a close eye on the most interesting stocks of publicly traded companies that try to get the most out of both established and emerging markets. The rise in online gambling has impressively managed to stabilise the industry in times that are labelled as uncertain, which now gives private people and companies a wide range of lucrative investment opportunities. In this blog article, we will touch upon what we believe are the 10 largest gambling stocks of 2022.
Better times are coming
The corona pandemic took a major toll on the gambling industry, due to the closure of casinos around the world, but the good news is that casino venues have turned out to reopen their businesses, measures are gradually dropped, and online casinos stepped in to offer players a welcome and highly appreciated alternative. With the rise of online casinos the gambling and overall casino industry have managed to get back on their feet after stumbling for a year of two. Better times are coming: for players, and for investors.
10. Red Rock Resorts, Inc. (NASDAQ:RRR)
Red Rock Resorts, Inc. is one of America's leading gaming companies, offering more than 21 casino venues and related properties across the United States. Just recently, B. Riley Financial turned out to appreciate the business' launch of an online casino, which is expected to attract a large number of customers from all over the United States. Red Rock Resorts, Inc. has developed around 6 billion dollars of regional gaming and entertainment destinations in various jurisdictions in the US and is known to be a highly established leader in Native American gaming.
9. DraftKings (NASDAQ: DKNG)
DraftKings was only launched in 2012 as a daily fantasy sports platform, but they have managed to make an impressive growth in the last decade. Over the last 10 years DraftKings has enjoyed major growth in this sector, securing large funding and investment deals with companies like the Kraft Group, Major League Baseball, and Fox Sports. The next decade even looks more promising. DraftKings is listed on the NASDAQ.
8. Caesars Entertainment (NASDAQ: CZR)
Caesars Entertainment has a well known history in the gambling branch in the United States, as it opened its very first casino in Reno (Nevada) back in 1973. Nearly five decades later, Caesars Entertainment is one of a slew of major gambling brands fully committed not to be left behind in the expected gold rush unleashed by the recent legalisation of online sports and casino betting across the nation.
7. Churchill Downs Incorporated (NASDAQ:CHDN)
Lately, Churchill Downs Incorporated has shown a very positive hedge fund sentiment, as 35 hedge funds followed by Insider Monkey reported owning stakes in the business, up from a total 19 in the first quarter of 2021. These stakes were valued at the end of last year at roughly 694,2 million USD. With no less than 16 industry-leading casinos, Churchill Downs Incorporated continues to be one of the best valued gambling stocks of 2022.
6. Sea Limited (NYSE: SE)
Sea Limited is renowned for being a fastly growing e-commerce company that also has a strong hand in the gambling sector. The company's widely sought after Garena platform offers mobile games and desktop titles. In addition, it offers esports and gives users direct access to other sorts of entertainment content and social features. To name a few, users can live stream their sessions, chat with other players and interact on forums. Social gaming has turned out to be a huge thing and Sea Limited has the tools to offer this.
5. Flutter Entertainment (LSE: FLTR)
Ireland based Flutter Entertainment has been a success story ever since it was created in 2016 by the highly anticipated merger of two gambling giants of the United Kingdom and Ireland: Betfair and Paddy Power. Flutter Entertainment now continues to enter in new gambling markets with their well known brand portfolio as more and more countries allow their overage citizens to make an online wager on casino games and sport events. Flutter Entertainment's platforms can be found both in Europe and in North America.
4. Boyd Gaming Corporation (NYSE:BYD)
Boyd Gaming Corporation is yet another American gambling business in our top 10 of largest gambling stocks of this year. The number of hedge funds tracked by Insider Monkey having stakes in Boyd Gaming Corporation grew to 36 in Q2 2021, up from 22 in the previous quarter. The total value of these stakes is estimated at 534,8 million USD, which is an impressive rise from the 299 USD million in Q2. The company is run by founder Sam Boyd's family under the management of Bill Boyd, who fills in the position of executive chairman. Boyd Gaming Corporation has about 75,480 m2 of casino space with 21,400 pokies and more than 400 table games. Gambling revenue is said to be 75% of total gross revenue.
3. MGM Resorts International (NYSE: MGM)
MGM Resorts International is another big US casino brand that has heavily invested in the online sports betting business in recent years. Formerly known as MGM Grand Inc., and MGM Mirage, the MGM brand is still one of the most recognised brands in US gambling which is partially thanks to MGM Grand Hotel's presence at the Las Vegas Strip. BetMGM is MGM Resorts' online brand, which has been created as part of a joint venture with GVC Holdings (that owns international brands such as bWin and Coral and). BetMGM has teamed up with major league sports teams and is already open for online betting in many of the US states.
2. Wynn Resorts, Limited (NASDAQ:WYNN)
Wynn Resorts, Limited is one of the best known American operators of premium hotels and casino resorts. The business also launched an online casino and sports betting app, known as WynnBET, which is now available in 6 different US states. Founded back in 2002, Wynn Resorts, Ltd continues to be one of the largest gambling stocks of 2022. As of 2022, the company owns six properties around the world: Wynn Las Vegas, Encore Las Vegas, Encore Boston Harbor, Wynn Macau, Encore at Wynn Macau, and Wynn Palace.
Las Vegas Sands Corp. (NYSE:LVS)
Las Vegas Sands Corp. tops our list of the 10 largest gambling stocks of 2022. This is an American gambling and casino resort company that operates around the world. Quite recently, Stifel lifted its price target on Las Vegas Sands Corp. to a rate of 51 USD, while it gave a Buy rating on the shares, underlining the company's growth opportunities in Asia and in particular, Macau gaming. Las Vegas Sands Corp. holds a large number of resorts in both Asia and the United States. Among the properties it developed in the US are two well known casino resorts on the Las Vegas Strip: The Venetian and The Palazzo (since sold). In Asia, the world famous Marina Bay Sands situated in Singapore was added to the company's assortiment when it opened in 2010. Through its subsidiary company Sands China, it also owns venues in Macau, such as the Sands Macao, The Venetian Macao, and The Plaza Macao. Las Vegas Sands Corp. is the biggest casino brand in the world.