Why Does the House Always Win? A Look at Casino Profitability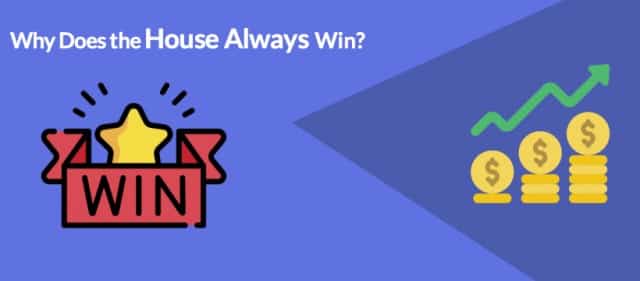 Games of chance are believed to be random, but the truth is that nothing is really left to chance when it comes to gambling. In the end, the house always comes out on top as the winner. A new online casino is a business just like its offline counterpart and like any other company, it works with a business model to ensure its long term profitability. This also means that the longer you play, the bigger the chance that you will actually lose money and it's the house that will make money.
Casinos are designed to make money from their visitors and it's hard to blame them as they're the ones facilitating all the pokie machines, tables, and dealers so that players can make a wager but especially enjoy themselves and have some fun. In this guide we'll touch upon all the factors that explain why the house always wins and we'll always leave you some tips and tricks you can use to get the most out of your chances of winning.
House edge explained
Whatever casino game you prefer to play, the odds of the house winning your money are always bigger than the odds of you winning the house's money. This is explained because all games of chance are designed in such a way that the house has a built-in edge, lowering the chances and sizes of potential payouts to its players. This may seem somewhat unfair to some, but it actually perfectly makes sense as the house is called the house for its role to facilitate the games, making it possible for dealers to deal, players to play, and bettors to bet. The advantage for the house is what's called the house edge which is a self explanatory name that refers to the odds advantage and the average gross profit that the casino is expected to make from each casino game.
The higher the house edge, the more profitable for casinos
The games with the lowest house edge, and thus the highest chances of winning for players, have an advantage as low as 0,5%. The house edge tends to be lower for table games like baccarat and roulette and higher for online pokies that happen to depend on randomness a lot more rather than on skills. This also explains why most of the casino bonuses are awarded for online pokies instead of table games or at least have a lower wagering contribution to the total amount of wagering requirements. The casino clearly tends to stick to games that favour the house as much as possible. No wonder why not all casinos are keen on offering French Roulette with the La Partage rule or the few online pokies that have house edges as low as 1% or 2%.
Why do players lose more than they expected?
Most players will be aware of the house edge somehow, but still continue to wager as they expect that luck will need to be on their side any time soon. Another reason is that some players try to compensate for previous losses, actually leading to more losses instead. And let's not forget the fun part of playing in a casino, all the bells and whistles are designed in such a way that it triggers players to keep on spinning the rolls. Even if you stick to a land based table game like roulette or craps you'll soon understand why the game is so much fun if you see as you're surrounded by all the action and interactivity.
More house edge in the long run
The definition of house edge becomes even more visible if you're a frequent player as short term differences are always likely to happen. The short term difference is what makes gambling so exciting as you can always end up winning every now and then. You may well be ahead after a few spins, but over the long haul, the casino's house edge will gradually push you towards your likely destiny, that of unprofitability. This is also why gambling operators try to keep you playing for longer as any profit for the player is likely to be turned around into profit for the casino. Land based venues are even well known for not having clocks or windows inside to avoid that players have a notion of the time. Luckily, many online casinos have been forced to include a clock and even the session duration.
So why do people play if the house always wins?
This brings us to an obvious question as you'll probably ask yourself why players still gamble if they know that the house always wins? There are a few reasons that explain this and the first reason is that people are paying to have a good time. An average casino offers more than games of chance as it's a complete experience the visitor is buying. Live music is one example, but even a fancy restaurant or cool bar will make the player feel at home. Hope is another reason why players still gamble as they are aware and believe that they can still make a win in the short term. More difficult than making a win is to keep a win and know when to stop. A lot of people end up losing because they didn't stop on time.
How to get the most out of online gambling
Speaking of which, if you know when to stop you might just be able to leave the casino with a nice win. In order to increase your chances it is crucial to have a stable money management plan and to stick to it at all times. The main idea is to only play with money that you can spare, but there is a lot more to it. However, we would like to point out that there is no preconceived plan, as each player has a different budget and different goals. The main goal should always be the same for every player: to find a balance between profit and loss. This brings us to a few tips money management tips:
Only play with an amount of money that you can afford to lose during a certain time frame. Make sure you calculate the amount of money you spend on fixed costs properly and stick to playing with money you can put aside for leisure and gaming.
Make sure you also have an extra buffer, for example a savings account that is put aside and is an extra backup for your monthly expenses.
Set aside your winnings in a timely manner. IIf you win it's time to take your wins.
Never bet with more than 5% or 10% of your budget per casino game.
Set a maximum loss of 10%. Also try to stick to the same stakes every bet you make so you've got a better overview of your spendings and your overall bankroll.
Stick to a fast payout casino as this will prevent you from playing with money that you have previously won. Some casinos work with slow processing times, meaning that players can still access their money, even when the transaction is still pending. Ideally you would be able to instantly withdraw your wins and safely put it aside.
Claim your bonus
Most online casinos offer welcome deals which are often meant for new users. The types of welcome deals depend on the casinos, but are often free spins, deposit bonuses, cashbacks, or whatever makes the first wagers of new customers just a little bit more smooth. Casino bonuses come with all sorts of terms and conditions as well, so before you actually claim them, it is crucial to go through them so you know what is expected from you before you withdraw any potential wins. The best promo comes with fair terms and conditions while a lot of players have a strong preference for a no deposit bonus as this type of bonus doesn't require a deposit, yet gives you a way to make a win.
Try the demo mode
Most online casinos let their players try the casino games without asking them for a deposit. This is thanks to the demo mode that is available for most online casino games, but not for live casinos as these work with real dealers that expect players joining the table to make a real money wager. For players that are more into online casino games, the free demo mode will probably come in handy as it gives players a way to practise games before they move on to real money bets. Once you're fully aware of all the game rules you can always go ahead and make a real money stake. This way you've at least avoided losing your first real money stakes because you were still learning the game. In the end, every bet makes a difference for your final return on investment (ROI).
If you win, it's time to take your wins
As soon as you make yourself a win you feel satisfied about it's time to collect your money and preferably withdraw it so you know you've got it separated from your casino credits. A lot of people who win, unfortunately, end up playing longer than they should. As you'll understand by now, the house will always win in the long win. Let's not forget that gambling has a certain thrill factor to it that makes players want to continue forever. The important thing however to remember is that you should win and feel happy about your balance. Once you get to that feeling, it's time to cash out. An even better idea would be to set predefined targets for both your winnings and your losses. Whenever you reach this target, you quit. Only this way you will be able to take some of the casino's profit, especially if you expect yourself to play frequently.